Posted On 05 Feb 2020
SOURCE: http://greatershepparton.com.au/whats-happening/news/news-article/!/456/post/murals-at-dhhs-as-part-of-the-aboriginal-street-art-project
Stage 3 of Greater Shepparton City Council's Aboriginal Street Art project will see it join with the Department of Health and Human Services (DHHS) and Yorta Yorta Nation Aboriginal Corporation (YYNAC) to deliver a new mural on the DHHS wall fronting Welsford St. The mural which will feature on Welsford Street overlooks the Goulburn River and river gums.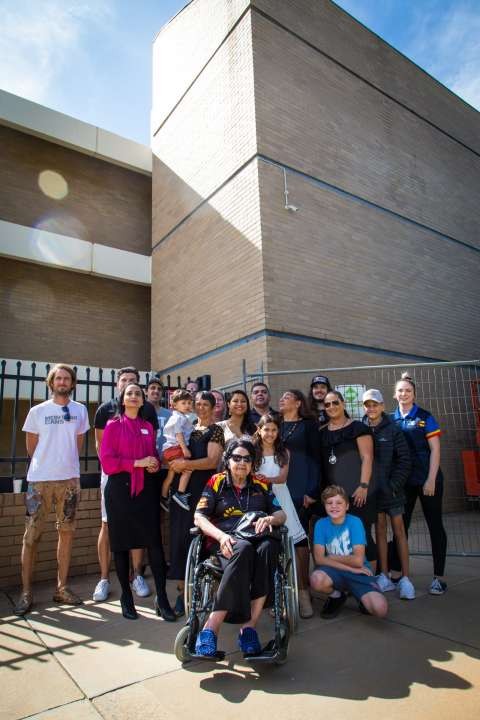 DHHS approached Council with the intention of recognising the local Aboriginal community through the Aboriginal Street Art project by having a mural painted on its wall.
Council consulted YYNAC, with its board of Elders determining they would like to recognise two significant female Elders in the late Aunty Geraldine Briggs and the late Aunty Elizabeth Morgan.
Both ladies are highly regarded Yorta Yorta Elders and were heavily involved in the advocating of rights and support for Aboriginal people.
The mural on the DHHS wall will be painted by returning artist Matt Adnate, who has also painted the murals on the Goulburn Valley Water wall. Mr Adnate is regarded highly amongst the local Aboriginal community due to his previous work and dealings with locals.
Council Mayor, Cr Seema Abdullah, said she was excited that the next mural of the Aboriginal Street Art Project would recognise two significant female Aboriginal leaders.
"These two ladies did so much for their community and deserve recognition right throughout our region. I would also like to thank DHHS for partnering with Council on this project, it is sure to be a beautiful piece of art," Cr Abdullah said.
Kym Peake, Secretary of the Department Health and Human Services said, "The Greater Shepparton community has a rich history of extraordinary Aboriginal leaders. Geraldine Briggs and Elizabeth Morgan were tireless activists for the rights of Aboriginal people. The Department of Health and Human Services shares the commitment to local self-determination to improve outcomes for the people of the Yorta Yorta nation. It is an honour to commemorate these amazing women and to work with their communities"
Chief executive of YYNAC and daughter of Elizabeth Morgan, Monica Morgan, said she was proud of her mother and felt that it was special tribute to a dedicated Cummeragunja woman who did so much for her people.
"I know mum would be humbled by being recognised within her country of Greater Shepparton for her achievements and contribution to the Yorta Yorta people, and her tireless efforts advocating for her people," Ms Morgan said.
Aunty Frances Mathyssen, eldest child of Geraldine Briggs, said her mother was a special and strong lady and contributed great things to Shepparton and Australia.
"I am proud that mum will feature in a mural, and that she will be recognised in her home town," said Aunty Frances.
The project has been part-funded by the Victorian Government. For more information on the Aboriginal Street Art project, click here.
More information regarding Aunty Geraldine Briggs
Aunty Geraldine Briggs is a highly respected Aboriginal Elder amongst local, state and national Indigenous communities. She put all of her energies into supporting and raising her eight children and extended family members, whilst campaigning for equal rights, particularly concerning citizenship.
She was a founding member and past president of the National Council of Aboriginal and Islander Women. Geraldine was the state secretary and a member of the Federal Council of Aboriginal and Torres Strait islanders who campaigned for the 1967 constitutional referendum relating to Aborigines and the vote. Geraldine was buoyed up by the hope of a better future for Aboriginal Australians when more than 90 per cent voted in favour of the 1967 constitutional amendments. Aunty Geraldine received the Order of Australia and was placed on the inaugural Victorian Women's Honour Roll in the year of the Federation. Geraldine is listed on the inaugural Victorian Aboriginal honour roll due to her achievements and at 82 years of age she won the Aboriginal of the Year Award.
For more information regarding Geraldine Briggs – click here.
More information regarding Aunty Elizabeth Morgan
Aunty Elizabeth Morgan was born at Cummeragunja and witnessed the walk off at a young age. Elizabeth worked tirelessly in improving the lives of her Aboriginal People especially women and children. During her time as Director of the Aborigines Advancement League she co-founded the Aboriginal Housing Cooperative in 1974, the Victorian Aboriginal Child Care Agency and many other vital services such as Australia's first Aboriginal refuge which would later be named in her honour as Elizabeth Morgan House. In her later years she fought for the recognition of the Yorta Yorta Nation of which her legacy stands today.
Elizabeth had many achievements and received an inaugural NAIDOC Lifetime Achievement Award in 2006 after being inducted into the Victorian Women's Honour Roll in 2001. In 2017 she was inducted into the Victorian Aboriginal Honour Roll.
For more information regarding Elizabeth Morgan – click here.